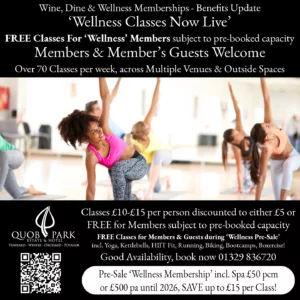 Wine, Dine & Wellness Memberships – Benefits Update
'Wellness Classes Now Live'
FREE Classes for 'Wellness' Members subject to pre-booked capacity
Members & Member's Guests Welcome
Over 70 Classes per week, across Multiple Venues & Outside Spaces
Our exercise classes have now started as a Try-All run with mainly Quob Park team members and any of our Wellness Members who would like to take part in these Try-All classes whilst we perfect the Quob Park Wellness customer journey.
Those of you who are interested should click here or call 01329 836720 to register interest:
The classes include:
Yoga: 7.30 am – 8.15 am on Monday, Wednesday, and Thursday

Location: The Yoga Shed in Wickham Square.

Kettlebell Intense: 6.30 pm – 7.15 pm on Monday

Location: Terrace View at Quob Park Estate

HiiT Fit on Monday at 7.30 pm – 8.15 pm

Location: Terrace View at Quob Park Estate
On Tuesday morning, promptly by 8.00 am, meet at the Clubhouse for Running Hill Reps. This is a more advanced running class and can be adapted during the Try-Alls to cater for all abilities.
On Tuesday evening, our higher-intensity classes will run at the Terrace View at Quob Park Estate Vineyard.
The first one is our In/Out Bootcamp at 6.30 pm. Taking full advantage of our weather, certain elements will be conducted outside in the vines.
At 7.30 pm we move forward into a boxercise-style class called 'Train Like a Champ' which is primarily pad work with partners.
For all the Quob Park Estate classes, please remember to push the Reception button at the gate to access the vineyard and park directly outside the Clubhouse.
As soon as our extra equipment arrives, we will be starting Nordic Walking for Beginners, Intermediate, and Advanced, on Mondays, Wednesdays and Fridays.
For Beginners, Nordic walking will start at the Old House Hotel, walking along the railway track which forms part of the Meon Valley Trail which we are lucky enough connects Wickham Square to Quob Park Estate, passing through another vineyard along the way and the field where the Shire horses graze, who also help to maintain the land at Quob Park Estate.
For those looking to stick to a 45 min walk, you will be able to get a shuttle back to the hotel from arrival to the vineyard. For those on the intermediate session (90 mins) will continue around the land at Quob Park and to the Clubhouse where again, you can get a shuttle back to Wickham. For those who want to do the advanced session (120 mins), you will join the instructor and walk back along the Meon Trail back into Wickham. At the end of the advanced session, you will have achieved or nearly achieved your 10k steps for the day.
Other classes that will be added to the programme through July and August include TriXter Bike Classes, both virtual and instructor-led and Mountain Bike Classes along the disused Railway Line which forms part of the Meon Valley Trail.  You are welcome to bring your own bike, but if not, they will be provided, along with helmets.
Once our Class Timetable is fully implemented, it will be Operating Across Multi Venues and Outside Options to Explore, with over 70 classes per week – so should offer plenty for everyone!
Remember during our June, July, and August Pre-Sale, you get a full Wine, Dine & Wellness Membership for 50% off at only £50 per calendar month or £500 per annum. This price is frozen until 2026 for those joining or upgrading during the Pre-Sale.
One Month Try-All Memberships are also available during July and August while our Spa & Leisure facilities are completed, so you can Try Before You Buy.
Existing Wine & Dining Members can add Spa & Wellness benefits to their membership for only £30 per calendar month or £300 per annum if the upgrade is completed during our pre-sale period.
So don't delay, start saving by joining or upgrading today!