Vintage Bar Box® was perfectly nestled under the trees, serving their absolutely stunning English Sparkling Wine.
THE PIG-on the beach – situated along Studland Bay in Dorset – offers a festival location with the most spectacular views. In one direction you have the beach and picturesque views of the yachts sailing into Poole harbour, and in the other an impressive view of Harry's Rock.
It was an absolutely glorious summers day to start our tour of The PIG and Lime Wood series of Smoked & Uncut festivals.
The grounds were adorned in picnic rugs and hay bales whilst guests sat back enjoying fine food and drink, accompanied by excellent live music from folk band Stornaway, Johnny Lloyd, Freddie and the Freeloaders, Island and Wildwood Kin. Amongst the various food offerings was the Big Green Egg barbecue serving delicious short ribs, mouth-watering venison burgers, and corn-on-the cob. Fever-Tree and Chase teamed up to serve a selection of cool cocktails.
Vintage Bar Box® was perfectly nestled under the trees, serving Hambledon Vineyard's award-winning classic cuvee. Their English Sparkling is simply stunning! Partnered with George Smith, the adjacent Hambledon Lounge brought the ultimate in lavish comfort to the outdoors. The collaboration of our masterfully crafted copper lined horsebox, paired with handcrafted furniture from George Smith, worked in true harmony to provide a luxurious and relaxing outdoor bar concept. Flopped on the Chesterfield sofa supping the best of locally produced sparkling wine, we sat back and reflected on a wonderful day.
The Pig team certainly knows how to throw a festival! We are looking forward to the next Smoked & Uncut at THE PIG near Bath in Somerset, on Saturday 23rd & Sunday 24th July.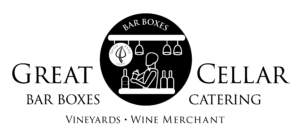 Quob Park Estate's Great Cellar brand acquired and integrated the Vintage Bar Box business early in the summer of 2021 to leverage this exciting brand for it's own outreach marketing whilst also supporting all prior and future customers of Vintage Bar Box, one of the range of Great Cellar Bar Boxes