£57 Worth of Free Wine with Dinner & Live Music Tickets at Quob Park's Restaurant 1707
Quob Park is Celebrating recent achievements and we want our valued customers to Join Our Celebrations – and what better way to celebrate than with Wine on us!
We are thrilled to share some recent achievements and milestones with you and to celebrate, we are offering everyone the opportunity to receive £57 worth of FREE Wine* per ticket purchased for one of our new Winter Seasonal à la carte 3-course Dinners with Live Music.  Your Free Wine does not have to be consumed on the night and you can come back to continue to use your free credit in our Wine Tasting Machines for up to 365 days following your visit.
To claim your free wine, all you have to do is write "CLAIMWINE" in the Special Instructions box when making your booking online. Please see the bottom of this email for full terms and conditions.
This offer is limited to the first 50 tables booked so don't delay in making your booking. Valid table sizes are from 2 – 8 people,  therefore the minimum number of tickets per booking is 2, with each ticket receiving £57 worth of FREE Wine*.
Below are just some of the developments and recent achievements that we are proud to share with you.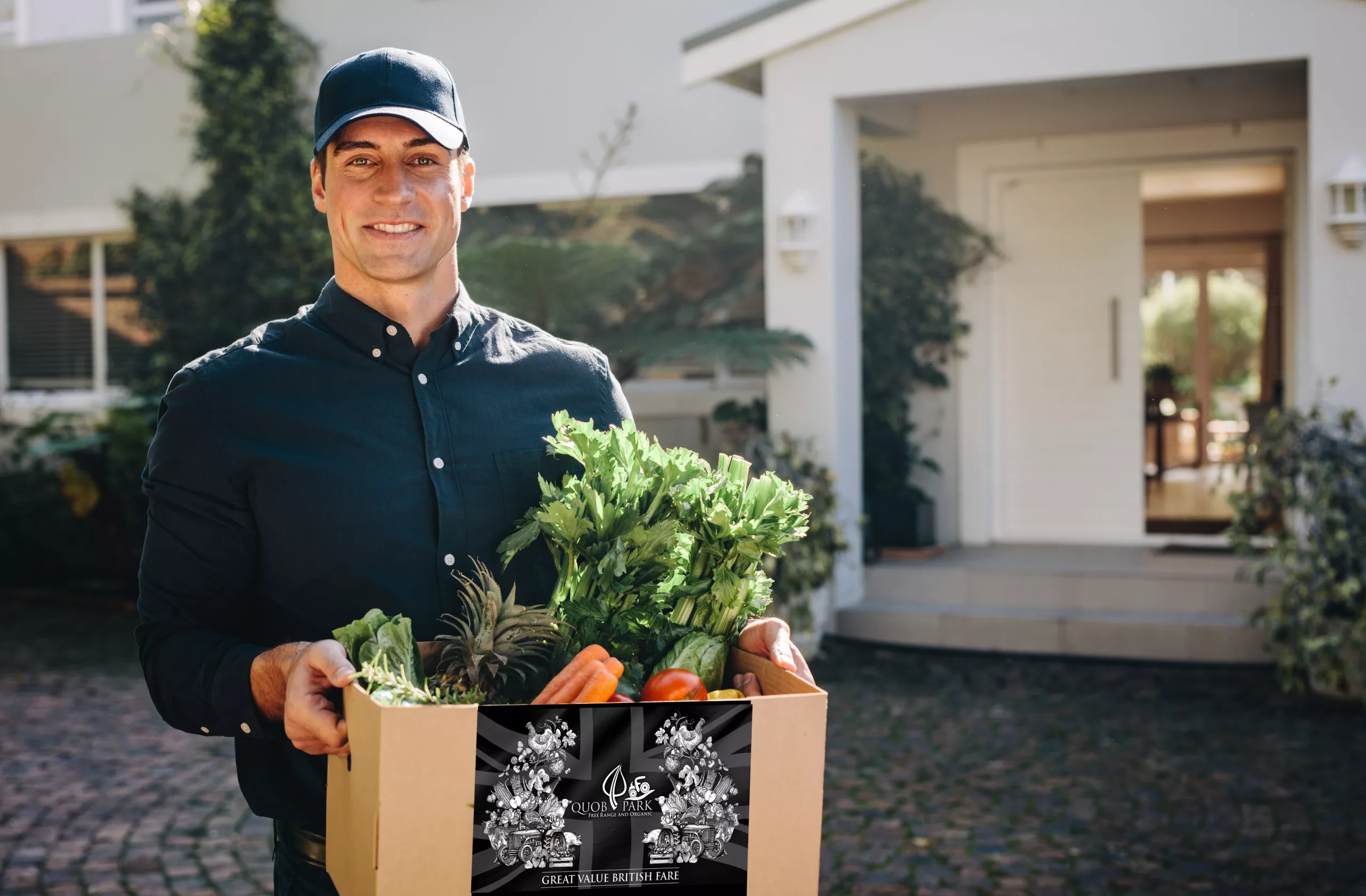 Free Range & Organic with Quob Park at Home: We are proud to announce that approaching 1,000 members are now regularly enjoying our Free Range & Organic service –  a core part of our Quob Park at Home range. Please remember your existing Quob Park login will work on this site, and any credit you have is also available for you to spend.  Your support and enthusiasm for our high-quality produce is truly appreciated, with all offerings locally produced or sourced, providing Great Value British Fare that provides an Exceptional Food Experience. Don't forget to order your Christmas Turkey (and all the trimmings!) early to avoid disappointment.
Don't forget – our FREE Membership Gift to You!
A full Wellness Try-All month for FREE, and an opportunity to become a full Wine, Dine & Wellness Member at up to half the normal price of just our Wellness Membership.
This offer is available during our pre-sale while we complete our Wellness facilities over the next few weeks, and is available to a maximum of 300 members but 225 places have already been taken up and it is being offered on a first-come, first-served, basis. So act today and book your free visit and start your Wellness Journey from £33pcm.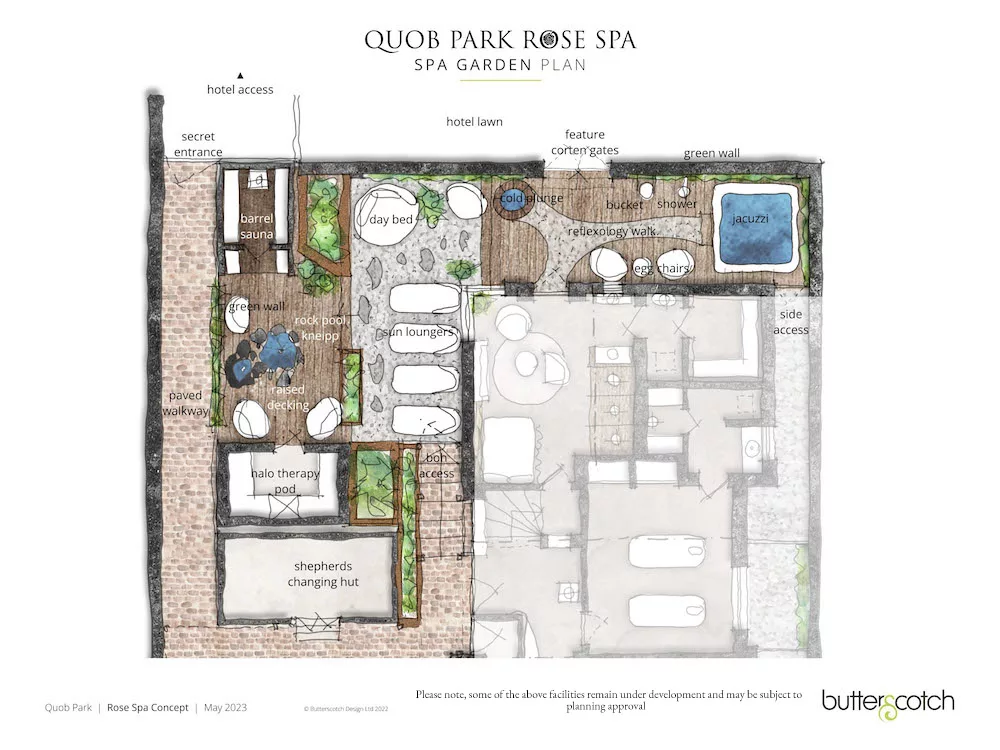 Quob Park Rose Spa: Having only started our pre-sale less than a month ago, Quob Park Rose Spa has already welcomed an astounding 225 Wellbeing Members, with overwhelmingly positive feedback received for the facilities and our dedicated spa team. All constructive feedback, good or bad, is valued by us and will be used to continue to enhance the experience for all members on a continual basis. We are delighted to see the vision of Quob Park Rose Spa as a sanctuary of relaxation and wellness for our cherished members become a reality, truly providing Your Retreat from The Everyday.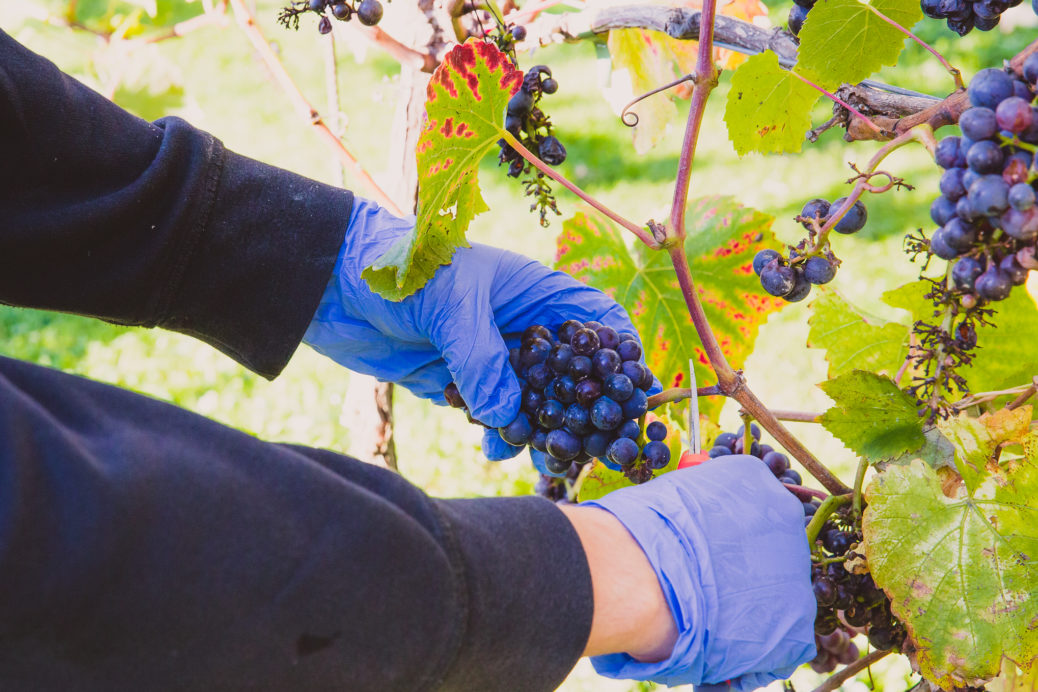 Record Quob Park Estate Harvest: This year, we are celebrating the biggest harvest in Quob Park's history, with a yield of over 40 tonnes, providing the vital ingredient for our range of Exceptional English Sparkling Wine. This record harvest is a testament to our dedicated teams, producing the finest quality products for our members, guests and visitors alike.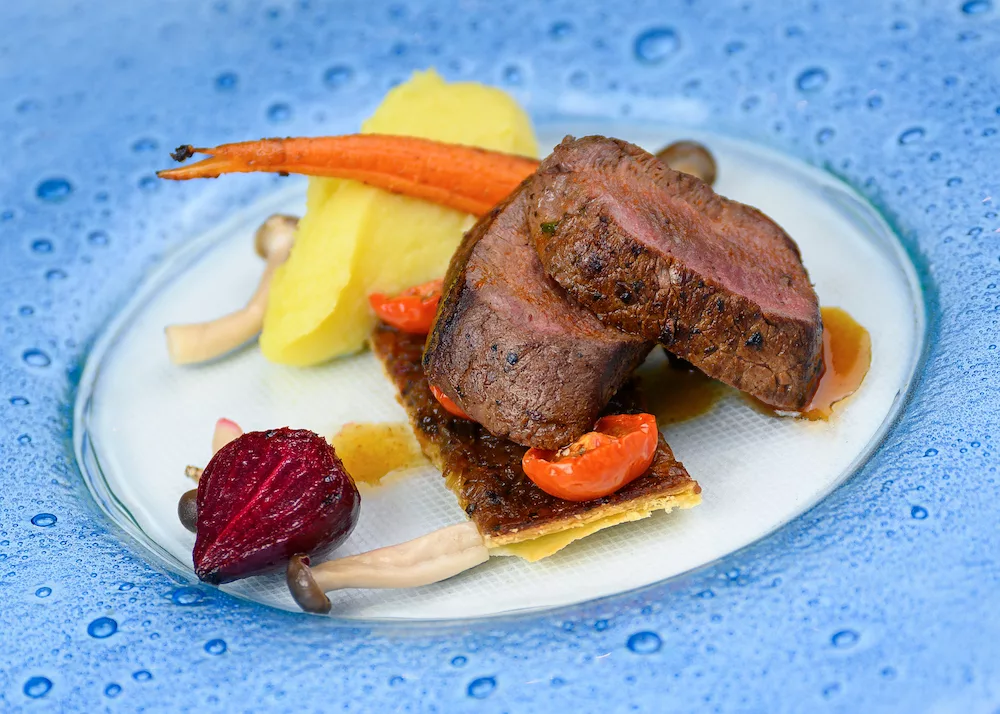 Restaurant 1707 at The Old House Hotel: We are delighted to inform you that Restaurant 1707 is now fully open, with members, guests and visitors all welcome!   With a fantastic new front-of-house team to greet you, with some key team members hailing from the renowned Restaurant 27 in Portsmouth, which was with its 7-course tasting menu, the highest-rated restaurant in Portsmouth prior to its recent closure.
We invite you to savour our delectable culinary creations and experience the Quob Park dining experience like never before, including our à la carte menu, and 9-course Menu Gourmand Tasting Menu – reserve your table today.
Our philosophy includes having a price range to suit all occasions with a 2 course à la carte menu from £33 or 3 courses from £42 at lunchtimes, served with an amuse-bouche chosen by our Michelin-trained, Award-winning, Chefs. Additional mains are also available for Sunday Lunch, including a family-style offering.
Unlike other venues, the Festive Period at Quob Park remains a Fine Dining experience with our full à la carte menu available to choose from, plus the additional main option of Turkey for those who would like it, available from 17th November until early New Year.
To see a full-size version of our à la carte menu (including Sunday Lunch additions), and our Festive Events, please click the image below, or click here to book an event ticket or reserve a table.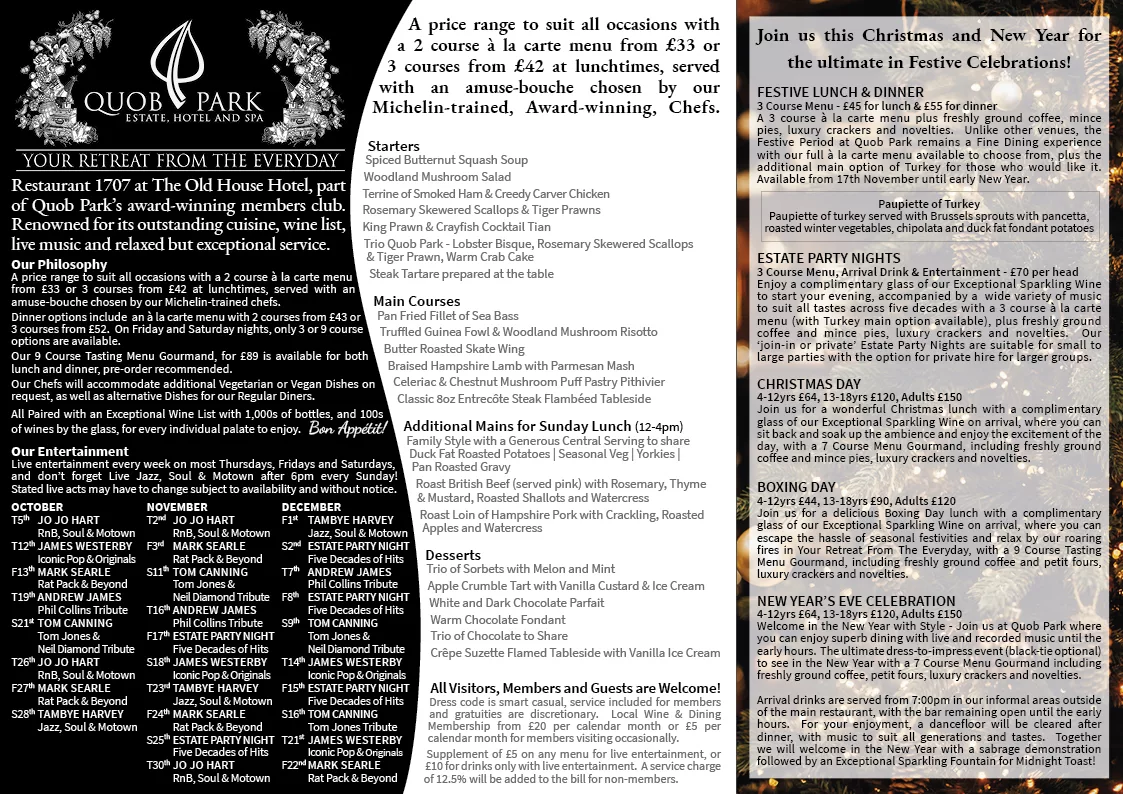 Live Music Calendar: Get ready to be entertained! We are thrilled to announce the launch of our Live Music Calendar primarily based at Restaurant 1707 at The Old House Hotel. We have curated a talented core team of artists, with musical styles to suit all tastes, with dates available to book between now and New Year, and many more planned for every week in the future.  You can also look forward to live music every Sunday evening, providing the perfect finish to your weekend.
Our Live Music Events are even better when enjoyed with our fantastic celebratory offer of £57 of FREE Wine* when a Dinner and a Live Music Ticket is purchased. For those not wishing to eat, but still wanting to enjoy these fantastic Music Nights, £10 Drinks-only tickets are available. Please note that drinks-only tickets are FREE to all Wickham's local residents (subject to availability), so if you are local, make sure you come and visit us soon! Please be assured no live music is played within the garden, and that all doors are kept shut with volume levels set to respect the local community.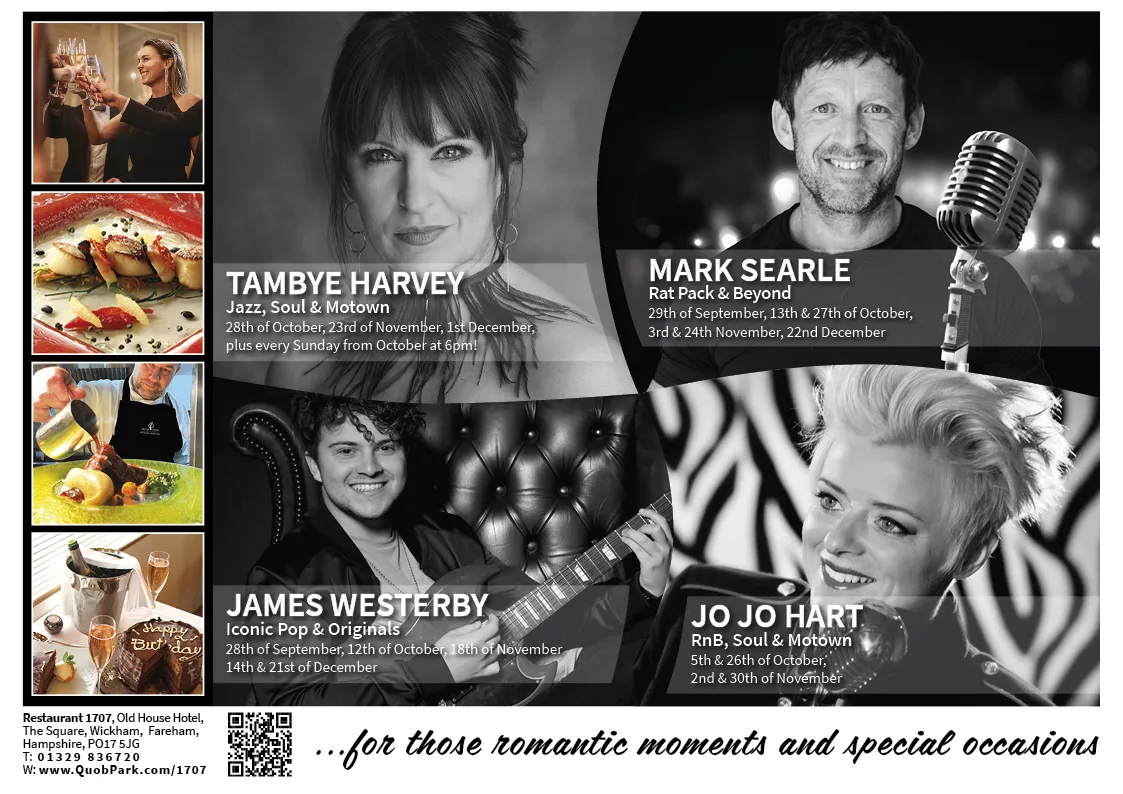 *Terms and Conditions

1. For each valid Live Music ticket you buy, you will receive the equivalent value in Wine Tasting Card Credit – don't worry if you don't already have a Tasting Card, you can register free of charge for a card on the night.

2. Non-member tables dining with us are subject to a non-discretionary 12.5% service charge.

3. Drinks-only tickets are available for just £10, but those taking up this option will only receive £10 of Wine Tasting Card Credit on their Tasting Card.

4. This promotion is only available for the first 50 table bookings, on a first-come, first-served basis.

5. This promotion cannot be used on tribute nights.

6. Only valid for Live Music Events before the 15th of November 2023.

7. Only valid for new bookings made following the announcement of this promotion.

8. Wine Tasting Card Credit is only available to those aged 18+.