The Vintage Bar Box® is a beautifully restored horse box that is visually stunning and memorable. Providing a unique bar experience for wedding guests.
Dry Hire Or Full Bar Service?
When organising a wedding, you are open to a world of enormous choice in every aspect of planning to create the perfect day. Not always however are couples offered choice when it comes to bar arrangements. Dry Hire, which is often not openly offered, could be the answer.
Firstly, what is Dry Hire? Basically, you hire the facilities of a bar without the supply of drink. If you would prefer not to have a cash bar at your wedding and provide guests with drink you have purchased, hiring a dry bar with staff can be the solution.
Full Bar Service therefore is the supply of bar facilities, drinks and staff. If cash will be exchanged over the bar on the day with guests and the venue does not have a drinks license, the bar provider (who has a personal license), will apply to the local council of the venue for a license. Alternatively, the wedding couple may choose to pick up the bar bill at the end of the day.
The Vintage Bar Box® offers both Dry Hire and Full Bar Service hire options. Of course there are pro's and con's to both……
We Want To Provide Our Own Drinks For Guests…
Dry Hire is great for those couples who are fortunate to have a healthy budget and lots of free time in their wedding planning schedule to source, buy and organise drinks. Of course every guest loves an open bar and if you don't mind putting the effort and time in, it can work well. Preparation is key. Buying the right amount, storing drink at the correct temperature prior to the wedding, chilling down drinks the night before, and finding a good glass hire company are all key to the success. One of the downsides however is misjudging the amount needed and running out, or having too much at the end of the event and not being able to return it for a refund. You also don't benefit from the experience of the bar provider in knowing good wines, or bubbles that don't lose their fizz soon after pouring for example. However those that enjoy a tipple will enjoy doing the research!
Top Tip! A wedding can be a long day with ample drinking time. If you're worried about guests becoming too sloshed too quickly, offer bottles rather than pints from tap. Bottles help maintain steady drinking throughout the duration and can reduce glass hire costs too.
Our Venue Is Providing A Bar, But We'd Love To Have Something A Bit More Special…
Dry Hiring a bar for the venue to use is an option. The Vintage Bar Box® is a beautifully restored horse box that is visually stunning and memorable. Providing a unique bar experience for guests, it is ideal for gathering round and keeping guests entertained, whilst allowing you some private time as a couple to wander off and have photographs taken. With two double bar fridges and a freezer, the horse box is ideal for staff at the venue to use. If access allows, of course it can be used inside or positioned outside.
Top Tip! Only one small bar at the venue? Why not offer two bars to avoid guests queuing and waiting. You could individually theme each of the bars too, such as making one a champagne bar… always a hit!
We/our Caterer Is Providing Drinks And We'd Like A Mobile Bar For The Rest Of The Day…
Regardless of whether you require a mobile bar for 4 hours or 12 hours, the work and outgoing costs involved to provide a bar service are the same for the mobile bar supplier. To the disappointment of couples, often bar providers turn down bookings in this scenario. Ordering from suppliers, making arrangements with the couple, staffing, purchasing, booking glass hire, applying for the license application with the local council, prepping of fresh fruit, collecting and loading the stock all take place before the big day. On the day itself, it is often an average of a 16hr working day – collection of ice, travel, unloading, selling, reloading, and traveling home in the early hours of the morning. The day after, there is the unloading of partial stock to storage, returning of unsold stock to suppliers, and cleaning of the bar ready for the next event. This, along with every day business overheads, means that all these costs and the time required, need to be taken into consideration by the bar supplier when deciding to accept a booking. Therefore there are not many mobile bar companies willing to provide a bar for a small amount of hours. Understandably therefore, the Vintage Bar Box® only provides a Full Bar Service as the sole provider of alcohol for the day, with drinks packages starting from £13per head. In some cases however, if there is large number of guests attending, a minimum spend agreement can be put into place.
Top Tip! Dry Hire the Vintage Bar Box® and ask the local pub to come along to provide a full bar service for you. Often they are happy to do so if they're in close distance.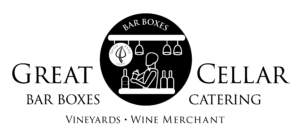 Quob Park Estate's Great Cellar brand acquired and integrated the Vintage Bar Box business early in the summer of 2021 to leverage this exciting brand for it's own outreach marketing whilst also supporting all prior and future customers of Vintage Bar Box, one of the range of Great Cellar Bar Boxes