Vintage Bar Box® is a supplier of choice for Bignor Park.
Vintage Bar Box® is a supplier of choice for Bignor Park.
Bignor Park is an exceptional place to celebrate any special occasion. The twelve hundred acre, privately owned estate is situated in the most beautiful and unspoilt surroundings at the foot of the magnificent South Downs, within the new South Downs National Park. Tucked far away from traffic noise and civilisation down an impressive half mile long drive, it is majestic but with an understated style, and a quirky rugged charm.
What sets Bignor Park apart is that no two events that they host are the same – there is no set formula for how your day will unfold because there are a variety of options available to you. In hiring the venue for your wedding, party or corporate event, you have the exclusive use of eleven acres of grounds and gardens to include the Greek Loggia (licensed for ceremonies), formal gardens, sweeping lawns, the Temple, and the calming Zen pond. Your photographs will tell the story beautifully, with some of the most breath taking backdrops you can imagine.
Then, for dining and for dancing, the newly restored Stables offer a rustic suite of rooms, courtyard and quadrangle dating back to the Eighteenth Century, or a marquee can be erected on the Croquet Lawn overlooking the panoramic South Downs.
The Stables are a beautiful, rustic complex of rooms dating from the eighteenth century that have been lovingly restored, giving you the opportunity to create a very special occasion, tailored exactly as you like. A large dining/dancing room, adjoined to a further dining/relaxing room, a further dining/entertaining room and smaller bridal room, all opening out onto a cobbled courtyard will make this a very special and exclusive venue for your wedding.
Bignor Park is licensed to hold civil wedding ceremonies in the delightful Greek Loggia. This stunning space is set amongst the gorgeous gardens within the grounds of the house, and guests are seated on the lawn in front of the Loggia. Bignor Park is one of only a handful of wedding venues that has an outdoor ceremony location. You can hire the Greek Loggia for your ceremony and the grounds for your wedding reception, or alternatively, should you wish to have a small reception of drinks and canapés or afternoon tea following your ceremony, this is also possible. With the fully flexible, bespoke wedding reception space, Bignor Park offers a truly magical setting for your special day.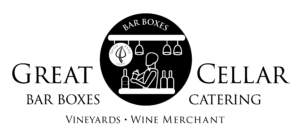 Quob Park Estate's Great Cellar brand acquired and integrated the Vintage Bar Box business early in the summer of 2021 to leverage this exciting brand for it's own outreach marketing whilst also supporting all prior and future customers of Vintage Bar Box, one of the range of Great Cellar Bar Boxes