FRENCH DELICATESSEN & SELECT LOCAL PRODUCE
GIFT HAMPERS.
DELIVERED.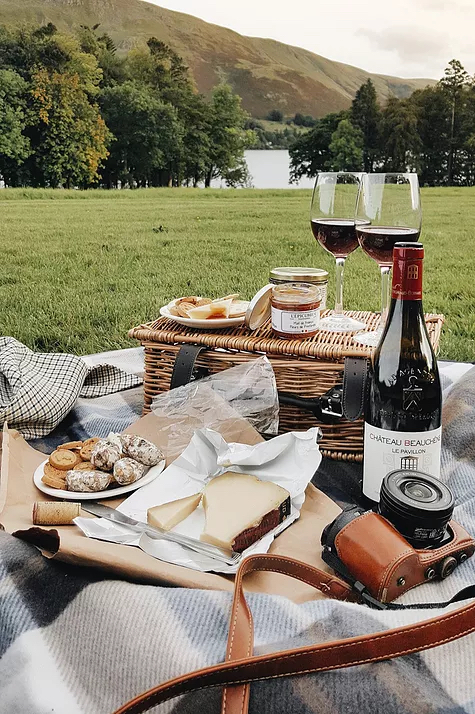 Juliette, Le Hamper's founder and now one of its two shareholders, comes from a genuine foodie family counting numerous pastry chefs and cooks. She herself worked in the restaurant industry for over a decade. After establishing herself in England, she quickly realised how difficult it was to get her hands on her favourite French delicatessen. This is when she decided that it was time to make French food available to everyone. After months of research and many delicious French food and wine tastings, she was able to partner with the best producers of the industry and launch Le Hamper. A wide range of French deli, French wine and gift hampers are now available for fast delivery all over the country.
More recently Juliette has been joined on this quest, and as a fellow shareholder, by Quob Park Estate another family owned and run business with many connections back to France including via its head winemaker who has spent over fifteen year making wine in the region. Quob Park Estate over recent years like many of the Great Champagne Houses, has invested heavily in establishing new Vineyards, in Hampshire, to produce an Exceptional English Sparkling Wine going way beyond the English norm and following equivalent standards to those followed by the Great Champagne Houses.
Quob Park Estate's Vineyards are complemented by its Orchards and Potager, containing many great French and English varieties, allowing Le Hamper to now add an English Twist to its French deli offering with local produce that is attractive to the French palate.
Le Hamper has now also broadened its French wine offering from a single bottle of each type to a personally curated Le Hamper French wine range, primarily from the broad selection available from Quob Park's 'Great Cellar' Independent Wine Merchant that imports a fantastic range of the best French wines and Champagnes.
Finally, like many of the Great Champagne Houses, Le Hamper can now offer its own Quob Park Estate Exception English Sparkling Wines whilst respecting and thriving to meet the traditions and standards set by these Great French Houses but at a far more affordable price.
So now, Le Hamper will take you on a French journey, sometimes with an English twist, across regions and seasons, creating a unique, modern, and unforgettable experience, from the comfort of your own home and delivered straight to your door. We will soon also be offering a membership to provide even greater value to Le Hamper customers.
The gift hampers are generously and elegantly packed with carefully selected and high-quality, delicious French delicatessen as well as selected local produce when it is felt these will excite your palate, all sourced from our trusted and independent partners, and they will make the best food and wine gifts for any occasion.